Disney World Spared After Receiving a Hit More-Direct Than First Forecasted.
Tree down at the Polynesian Resort, nearby the Magic Kingdom -@Peter_Kirch
Power is still on and the Disney Resort is still entertaining its guests after Irma's worst has passed through.
Disney World Parks and Universal Studios Parks remain closed today and will reopen tomorrow (Tuesday, September 12) following a quick cleanup from on-site crews during Monday. Winds were recorded at 90mph on Disney World Property Late Sunday/Early Monday, but there are no major damages reported at this time.
Characters entertain Guests at Disney Resorts (Pop Century) as Irma passes through. -@Eftelflags
Guests staying in Disney Resort Hotels received visits from their favourite characters during the storm to help keep guests occupied and children's minds off the storm. The Furry Friends Talent Show also took place at the Yacht and Beach Club Resort yesterday.
Monorails were stationed overnight inside of the Contemporary Resort, where the Monorail entrances were sealed up to keep high winds and the storm outside. Guests inside watched as animals at the Animal Kingdom Lodge toughed-out the storm through heavy winds and rain.
Monday, Sept. 11, Walt Disney World -@DMCdt
The Animal Kingdom Lodge Late Sunday Night. -@bromah
Very minimal damages were seen the morning following the worst of Irma, some trees down and palm leaves/tree debris covered the ground Monday morning. There are confirmed down trees at the Animal Kingdom Lodge Safari, the Polynesian Resort near the Magic Kingdom, Art of Animation Resort, and the Animal Kingdom. Light flooding was seen in the lobby of the Animal Kingdom Lodge and Port Orleans French Quarter. This seems to be the extent of the damage at the moment. There's a video below showing the worst moments of the storm, late Saturday night.
Power Surging and lights flicking at Disney Resorts were said to occur, but no major power outages have been reported at either of the Orlando resorts. SeaWorld and Busch Gardens animals were kept indoors in a hurricane-proof shelter. We'll begin to see more pictures throughout the day.
Irma made a second Florida landfall on Sunday on southwestern Marco Island as a Category 3 storm bringing winds of 115 miles per hour (185 kph) and life-threatening sea surge.
Disney canceled the Monday sailing of one of its cruise ships and said it is assessing future sailings, which stop throughout the Caribbean and in the Bahamas.
Florida is one of the world's top tourism destinations. Last year nearly 113 million people visited the state, a new record, and spent $109 billion, state officials said earlier this year. The first half of 2017 was on track to beat that record pace, officials said. -cnbc.com
Parks will reopen tomorrow, the sun should be shining this afternoon and cleaning efforts should take place through the night. If you are at the parks in Orlando tomorrow, it may be hard to tell that a storm was even in the area yesterday.
Update 10:10AM EST:
More damages reported around the parks via Twitter, none 100% confirmed.
Epcot - Light Flooding in the Park and Trees Down
Disney All Star Resorts - Trees Down.
Universal Resort - Small/Minor Trees Down, Outside of Parks on walkways, fence damages, sign damages. No major damages reported, expect regular hours tomorrow.
Port Orleans - Main Building Light Flooding, Large Trees Down
Wilderness Lodge - Bus Entrance Blocked by Trees Down.
The following message was given to Resort guests this morning:
"Despite the weather, we hope your evening was comfortable. As a reminder, we continue to observe local curfews and ask that you remain in your Resort room. building for your safety. We will inform you once the curfew is lifted and ask that you stay tuned to channel 3 on your in-room television for more details. Thank you for your continued patience and understanding."
Update 4:41PM EST:
The lights remain on inside Magic Kingdom, no park damage is known of at the time.
Disney Water Parks will be closed tomorrow.
Universal Studios Update: The Parks will Reopen tomorrow, confirmed, along with Volcano Bay, and Hollywood Horror Nights will still begin Friday.
"Our thoughts go out to all those impacted by Hurricane Irma and we stand ready to help our community recover. Our destination saw relatively minor damage overnight involving fences, trees, signage and building facades.
We are hard at work inside our parks and we can confirm an on-time opening for Tuesday, September 12 at 9:00 AM for
Universal Studios Florida
,
Universal's Islands of Adventure
and
Universal's Volcano Bay
.
In addition, we can confirm that our
Halloween Horror Nights
event will begin as scheduled this Friday, September 15." -Universal Orlando
Picture Updates from Around Disney World Resort: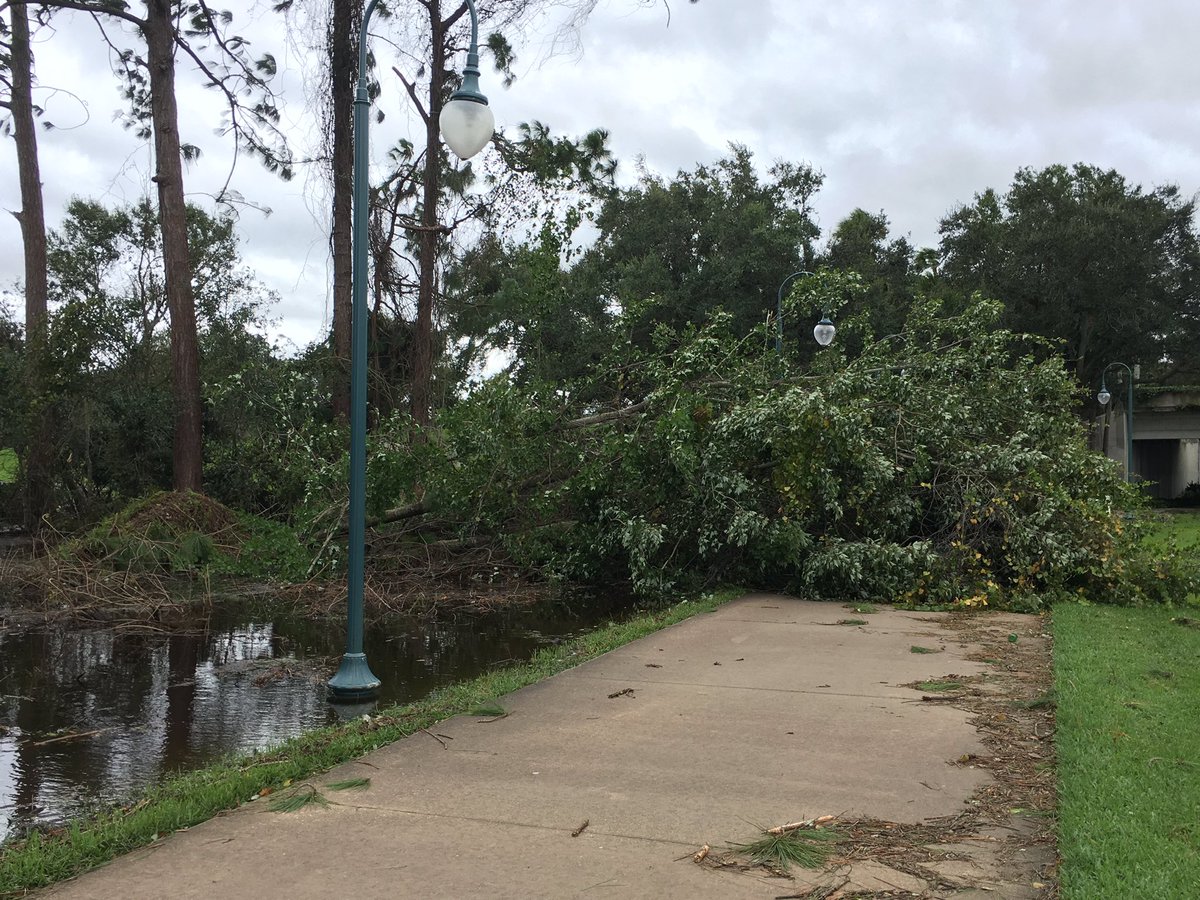 Path to Hollywood Studios @Disneyziigy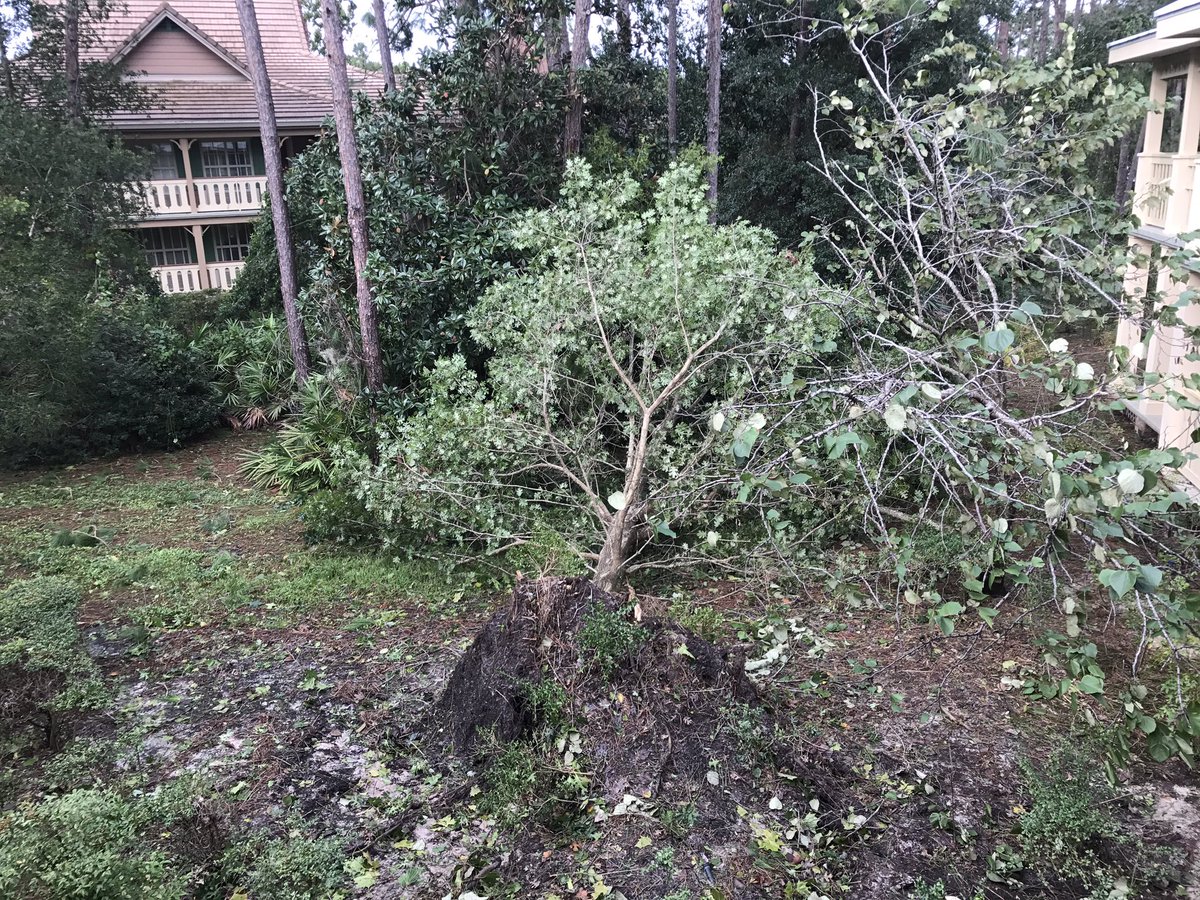 Port Orleans Resort @ilovefluffy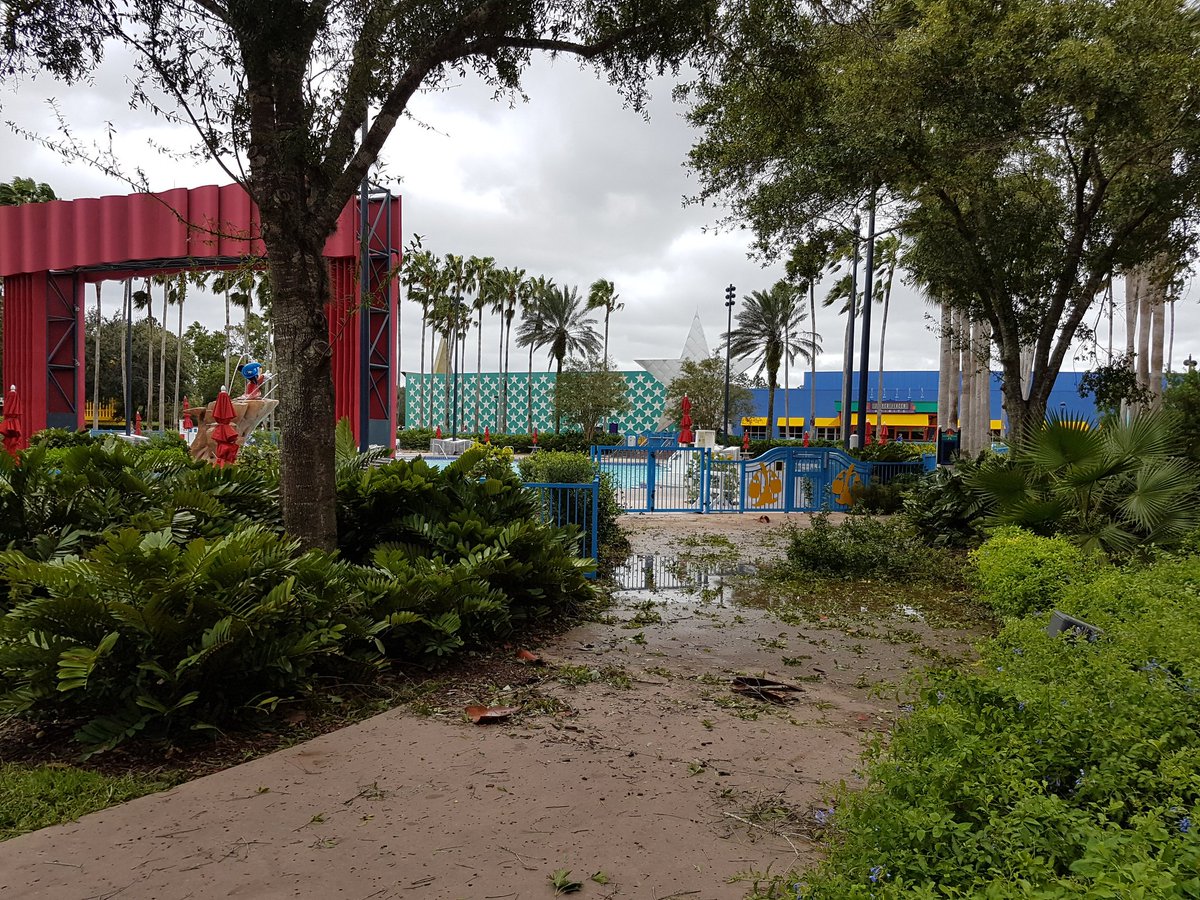 All Star Movies, mostly small debris, some trees down @dmcdt
Magic Kingdom Employee Parking Entrance @Behindthemouse
Workers are working through the night to clear any fallen trees and debris, parks are on course for normal operations tomorrow with the exception on Disney Water Parks remaining closed.